Lives changed in Tanzania
At Bugando Medical Centre in Mwanza, Tanzania, the waiting room is always bustling, and this Wednesday was no exception.
For the families and children awaiting surgery, like Shukuru Hassan and his mother, however, this was anything but a normal day. Soon, Shukuru would be in surgery for his cleft lip. He would also be among the first patients to receive his surgery in the newly renovated pediatric Operating Room supported by KidsOR and Smile Train.
The importance of dedicated children's Operating Rooms
At Bugando Medical Centre, a dedicated paediatric Operating Room has been sorely needed. The hospital serves the more-than 14 million inhabitants of Tanzania's Lake Zone, the term for the regions of Tanzania, near Lake Victoria.
While the centre has more than 1,000 beds and 1,300 staff members to care for the families who come seeking care, it has, until now, lacked an Operating Room reserved exclusively for children's surgery.
This isn't uncommon. A staggering two-thirds of the world's children, primarily located in low- and middle-income countries, are unable to receive safe, affordable surgical care when they need it, and lack of infrastructure and resources like paediatric Operating Rooms are among the major barriers to bringing surgical care to more children.
Not having a paediatric Operating Room means that often children must wait or travel long distances to receive surgical care — and for so many surgeries, including surgery for cleft lip like Hussan's, timing is everything.
"[Because there was no paediatric operating room], there were so many children on a waiting list to be operated on throughout the year," said Dr Fabian Massaga, Acting Director General of BMC, reflecting on the challenges his teams faced.
A Partnership to Change the Landscape of Paediatric Surgery in Africa
These challenges are why we partnered with Smile train to undertake a renovation and create a beautiful, welcoming space dedicated to serving not only children with clefts, but all children in need of surgical care.
"The new operating room will not only allow surgeons to enhance their skills in caring for children, but also significantly impact the lives of the children we aim to transform through surgery," says Dr Esther Njoroge-Muriithi, Senior Vice President of Smile Train's Global Medical Programs.
As a global health charity working to provide every child with access to safe surgery, partnering with Smile Train, the world's largest cleft lip and palate organisation, was a no brainer.
Like Smile Train, at KidsOR we firmly believe that the best way to ensure that children always have access to high-quality, safe surgical care is to empower local surgical teams to provide that care in their own communities to create long-term change.
The steps for change
"From start to finish, the renovation is a long process," says Rosemary Mugwe, Africa Director for KidsOR. "The equipment and art travels from the KidsOR warehouse in Dundee, Scotland, via an ocean freight. Once it arrives at the hospital, an installation team begins to equip the room, receiving remote assistance and ongoing training from an expert engineering team."
Once the equipment is installed, the next stage soon commences. Using special pre-fabricated designs, the team at the hospital transforms the plain walls of the Operating Room, covering them with brightly coloured animals, balloons, trains and other imagery that reflects the local environment.
These colourful designs might seem like icing on the cake of a fully equipped Operating Room, but their purpose is far more important than just providing a beautiful visual.
For children and families alike, surgery can be scary, and the bright lights and blank walls that characterise most Operating Rooms only contribute to the fear and anxiety many children feel before their surgery. The artwork is meant to reassure patients and welcome them into the Operating Room as a space where they will be safe and cared for by the surgical team.
For the team and patients of BMC, this will mark a new beginning. "Being able to prioritise paediatric surgical care empowers our teams to support the next generation. The Operating Rooms breathe fresh air into the hospital's surgical department," says Dr Massaga.
While Bugando Medical Centre is the first completed paediatric Operating Room supported by Smile Train and KidsOR, it has quickly been joined by others. Currently, there are six Operating Rooms across 6 countries, with many more in progress.
Over the next five years, the partnership will support the creation of 30 dedicated paediatric Operating Rooms across Africa, bringing access to surgical care to an additional 12,000 children each year.
Recent Posts
News
KidsOR excited to announce new fundraising appeal.
News
Join KidsOR's Live Q&A Session with Global Surgery Experts on Improving Healthcare in Low-Income Countries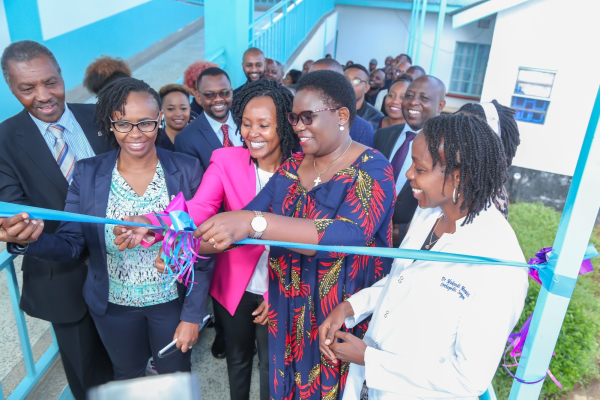 News
Our latest project with partners Smile Train is officially open!