Working with locals: Meet refugee videographer Ghaisen
This Refugee Week, we were delighted to announce that the world's first ever children's Operating Room installation in a refugee setting was complete. The dedicated paediatric OR was installed in the world's largest refugee camp in Kakuma, Kenya, and is expected to care for up to 1,000 children every year.
At Kids Operating Room we believe in working sustainably. This believe doesn't only apply to working closely with surgeons and their teams, but also with other local businesses. This is the case with Vinia Productions, a photography and filmography company based in Kakuma Refugee Camp. Vinia Productions is the company of refugee Loduye Ghaisen, who does wonderful work telling the stories of refugees and those in disadvantaged settings.
We sat down (virtually!) with Ghaisen to hear more about his story.
When did you arrive to Kakuma Refugee Camp?
My name is Loduye Ghaisen, I'm originally from South Sudan but currently living in Kenya as a refugee. My family arrived in Kakuma Refugee camp in 1995 when I was only three months old. And we've have been living in Kakuma since then.
Many people have misconceptions about refugees and refugee camps around the world. How would you describe life in Kakuma Refugee Camp?
A lot of people around the globe have a lot of misconceptions and stereotypes about refugees because most of them are unaware of the concept of refugee narrative. This is because there has been a certain way refugees have been portrayed by media outlets and organisations over the years, which might have created a disconnect in getting to interact with authentic refugee stories that exist on the ground.
You find that a lot of people relay on this information shared online without giving it a second thought, whether the stories are authentic or agenda driven. Life and challenges faced by refugees differ depending on whether one is an urban refugee or a refugee in enclosed camp. Personally, I exist in an enclosed camp and life here is not easy: restricted movement and limited employment opportunities for refugees are a big discouraging factor. Many refugees have mastered resilience and are forced to work twice as hard both in education sector or employment - this is as a result of limited opportunities and scarcity of resources.
Life in the camp is best described as survival of the fittest because there is so much uncertainty about life. Everyone pushes through the hardship with hopes of a better life while the rest who cannot keep up, give up along the way.
What have you enjoyed the most about working with Kids OR?
Working with Kids OR has been exciting for me because I started doing film to tell refugee stories, my sister lost one year old son in 2018 who badly needed a surgery. The child was put on travel waitlist for weeks to be taken to Nairobi to get the surgery that was supposed to save his life but he passed away waiting. Working with Kids OR to tell stories of their project that not only transform but also save the lives of the refugees here in Kakuma has been amazing.
You have studied Film and TV Production in the African Digital Media Institute. What made you interested in filmography and photography?
I was first introduced to the idea of film and TV production at my high school level but it was just a curious interest that didn't last for long but afterwards, I came across Film Aid International production training program for film and an old spark was triggered. I decided to enroll. After I graduated my passion for film and storytelling grew.
What made me pursue Filmography and Photography was my passion for storytelling especially stories of my kind have always been portrayed differently by the media. I felt a heavy responsibility had been placed on my shoulder to share authentic stories of people with the same background like me and correct where our narrative was lost. I also wanted to use the power of film to tell the stories of those who live in very difficult places in the world to change global perceptions of their identities. I have lived in the refugee camp my entire life and I want to share refugee stories as seen through the eye of a refugee.
Why do you think it's important to tell the unheard stories of refugees, refugee camps and those living under difficult circumstances?
It's important to tell the unheard stories of refugees because I believe in letting people talk and have a meaningful conversation. Film opens up real, difficult conversations about the reality some people live in such as refugees who are living under difficult circumstances because there are challenges in our world that are more pressing such as finding humanitarian solutions to refugee problems such as poverty, existences of failed states, discrimination, and social injustices, all of this mentioned issues are hard to overcome without raising awareness on the global refugee crisis and advocating for an end to mass atrocities and democratic transitions, my craft act as a vessel to aid these conversations.
We will soon publish some of Ghaisen's wonderful work showcasing the dedicated children's Operating Room in Kakuma. You can follow his journey on Instagram.
Recent Posts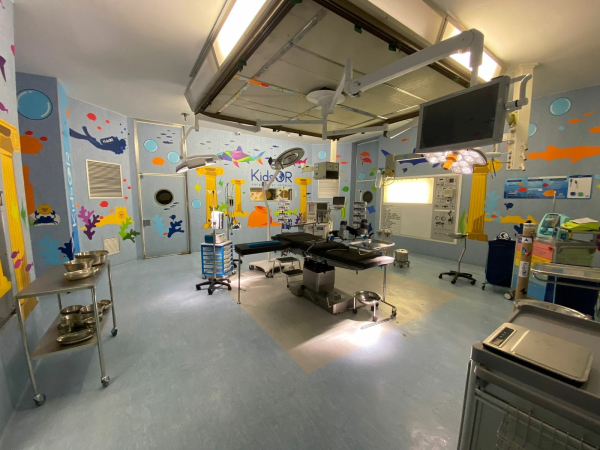 Blog
Paediatric surgery included in Namibia's healthcare strategy going forward
Blog
Blog