Celebrating Women in Surgery: Prof Ogunlewe
Prof M. Olugbemiga Ogunlewe is a Professor and Consultant Oral & Maxillofacial Surgery, College of Medicine, University of Lagos/Lagos University Teaching Hospital. We work with Professor Ogunlewe on a regular basis, and most recently when we installed two Operating Room at Lagos University Teaching Hospital with our partners Smile Train.
To celebrate International Women's Day 2022, we profiled remarkable women in surgery who are an inspiration, who break barriers, and who are at the top of their field.
Women are extremely underrepresented in surgery and anaesthesia departments across the globe. How many women do you usually work with in your unit/department? 
This assertion is very true of my specialty – oral and maxillofacial surgery! Presently, I am the only female Oral and Maxillofacial Surgeon in my department for the past twenty-eight years. However, we now have two female doctors who are undergoing their residency training in the department.
What are some of the challenges, if any, you've experienced as a female surgeon?  
The challenges experienced by a female surgeon are essentially work and family related. During my residency training and in the early years of my career, I was faced with always trying to prove myself over and over again to show that I was as competent as my other male colleagues. Sometimes my male colleagues would want to have compassion on me by not wanting me to perform certain procedures. They believed the procedures would require some masculine force. I therefore had to work twice as hard to prove myself and increase the confidence of my trainers in me. I ensured I was given opportunities to perform the same procedures as my male colleagues.
Breaking the jinx that surgery is only for men was what I had to constantly battle.In the home front, balancing time with family and work was challenging. I had to ensure that the time was evenly distributed such that none was neglected. The periods of pregnancy were slightly more challenging. Late night calls, emergency surgeries and late surgeries proved to be a bit tasking but I eventually overcame.
What advice would you give to your younger self when you started your medical career/ studies? 
My advice for my younger self would be to be focused, never give up, not to be intimidated by others. Whatever I lay my hands on, must be done to the best of my ability, no mediocrity! Make sure you effectively manage my time. You should constantly seek knowledge to improve clinical skill too.
What motivates you to keep on working in your field? 
My main motivation is my passion for surgery. The practice of oral and maxillofacial surgery restores the smiles to the faces that have been ravaged by different types of orofacial diseases. The fact that I can restore the smile on my patients' faces and improve their qualities of life me the strength to keep forging ahead.
Do you have a female role model in your field?   I am the first female Oral and Maxillofacial Surgeon in Nigeria. Hence, I had no female role model I could look up to.
Recent Posts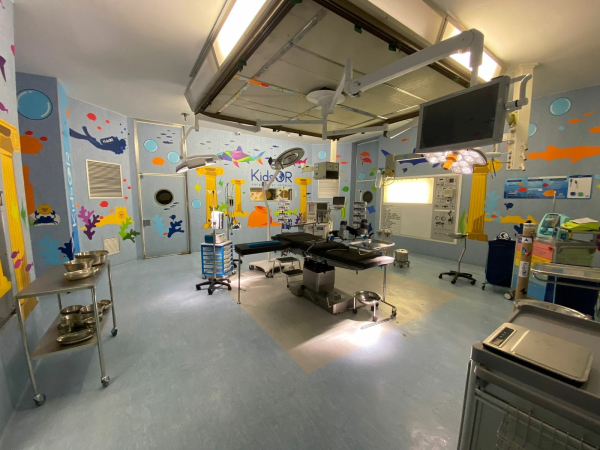 Blog
Paediatric surgery included in Namibia's healthcare strategy going forward
Blog
Blog